The Ant and the Grasshopper by Randall Brown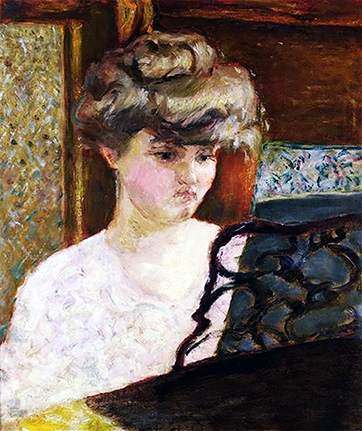 After each meal at the villa, Aunt Lucille drank a large grasshopper. She said it was the drink of the French Quarter—and who knew Oklahoma had one. While the rest of the family tried to get work done—college papers, end-of-year reports, newsletters, and the like—she sat at the piano playing and singing her self-composed songs. "I think these strings are made of aluminum," she said of the piano.
No one could follow her logic. There were quotes to cite, percentages to calculate, township commissioners to dissuade.
Other times, she looked through magazines, cutting out words from headlines, articles, and ads to create collages she placed around the piano for inspiration. At some point, someone would have enough, take off the headphones, and say, "Don't you have anything to do?"
"I am doing something," she'd say. Everyone wondered how she managed.
A few months later, everyone received one of her collages in the mail and a CD of her songs. The note attached to the collage asked, "Where are your reports now?"
And a self-addressed envelope with a slip of paper that said, "Pay what you wish."
The family thought they weren't the only ones to receive a collage, a disk, the note and envelope. They thought there was a lesson to learn somewhere. They sent the envelopes back, empty.
The next trip, in the silent villa, they now and then imagined that grasshopper, the piano, the Aunt's song cycle.
As soon as they found themselves humming, they stopped. They turned this way and that to see if anyone had heard them, wondering what it might mean.
###
Art: Misia at the Piano by Pierre Bonnard