Shout Out for Ray Collins
"The Crafts" issue is dedicated to Ray Collins, who died last year. Ray helped establish the magazine, and he was "The Linnet's Wings" Micro Fiction editor from 2007 to 2012, a full obit can be found at the following link.
Dietary Life Rules by Utagawa Kunisada, Style: Ukiyo-e
Quisling by Lauren Strait
There, there, poor babies." Elizabeth pats the side of the red Playmate cooler as she stares inside. "Such little ones this time." She fishes out the last of the doves from their bed of dry ice. "What's the world coming to? Broken wings and plucked feathers. Have they no decency?
Sighing, Elizabeth places the bird on a strip of aluminum foil. She slides the shiny paper around the countertop until it's in a beam of light.
"Time for your sunbath, little one. You look so pale without your feather coat. My, my. They didn't have to strip you. Such barbarians."
Elizabeth turns away from the tanning dove and frowns at the remaining flock. Nine birds rest on foil strips, laid out in three rows of three-a mini cemetery-atop the granite countertop.
"I know, babies. You never saw this coming. Who would? They plucked you! Can you believe it? I'll make this quick, preserving what I can. It's the least that should be done."
Sunlight through the window limns the wrinkles of Elizabeth's knuckles as she carefully and solemnly folds the foil over each dead dove; she re-adjusts and fusses over the birds until she's satisfied that the recently departed are secured in airtight shrouds.
"Nighty night, sweet ones." Elizabeth coos baby talk babble while she entombs the birds in her freezer, alongside packages of boneless, skinless chicken breasts she found on sale for $1 .75-a pound. As she swings the door closed, the light inside the frozen crypt winks out.
"Only two more hours," Elizabeth says to the thawing bird lying in the sunbeam. "Should I serve you with rice or potatoes?"
###
The Language of Frost by Bill West
He drifts
across frozen fields to the house beside the tarn watches her from
the garden as she sits motionless at a Christmas table set for two, her plate untouched.

He strokes the
window with phantom fingers and in the fractal language of frost he writes "love" on every pane.
###
Garden Under Snow by Paul Gaughin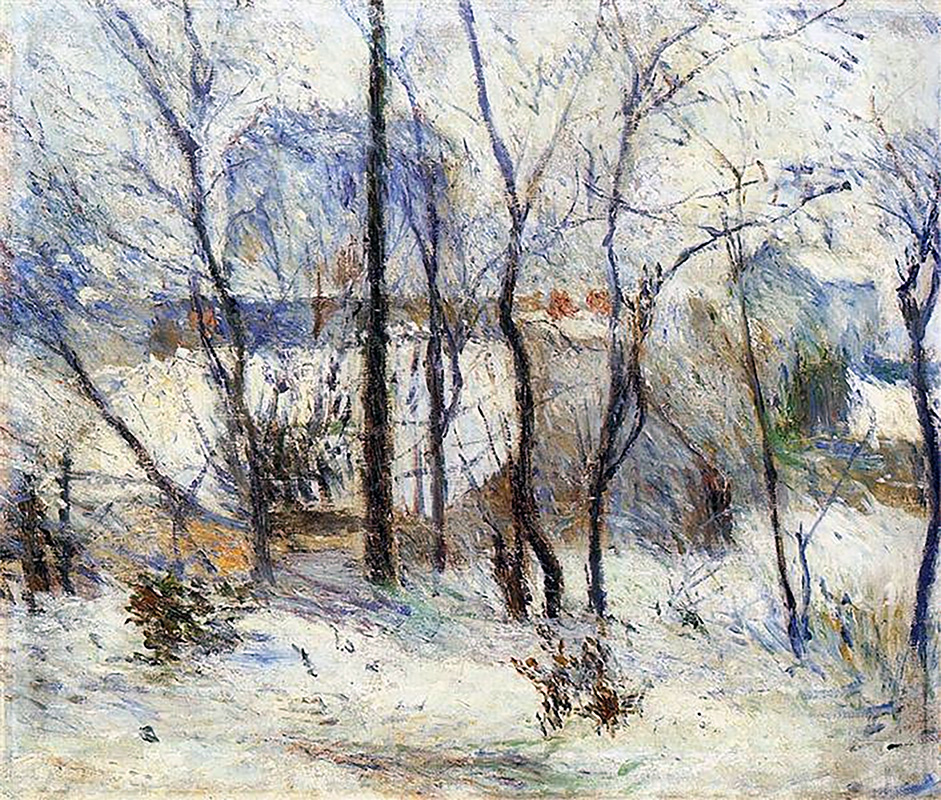 Don Diego Takes The Miracle Cure at Ojo Caliente
by Ann Walters
What remains after pain is an uncertain quiet, an uneasy ease. He no longer knows how to fill the void that is left. It's hard walking the path down to the hot springs without the pressure of swollen joints to temper each step. There is too much freedom. He feels like a calf on the wrong side of the fence. When no one is looking, Don Diego lets his arms swing wide and skips like a schoolchild. This will not do. Old cattlemen do not skip. The absurdity of an 'old' cattleman makes him laugh gruffly, like a lost steer coughing in a pine thicket.
He tries to find his swagger before he gets to the pool, tries to bend his knees as if hugging a saddle. There's nothing he can do about the silence except whistle a little to cover the absence of creaks and pops. Don Diego tries to blow melancholy, but it's not easy on warm red rock under a bright blue sky. When the girl with the towels starts humming along he gives up altogether.
In the night, he pulls a lariat from the bottom of his suitcase and twirls it in small circles again and again to warm up his wrist. Then he lassoes the bedpost fifty, a hundred, two hundred times in rapid succession until he feels his shoulder stiffen, his back begin to seize. He works the rope enough to get a small, welcome buzz of pain. Satisfied, Don Diego falls asleep to a litany of nerve and muscle complaints, the restless twitching of fingers tracing seventy years of work and ache. Tomorrow, he'll test the waters again.
###
The Miracles of San Bernardino. The Healing of the blind and deaf Riccardo Micuzio by Pietro Perugin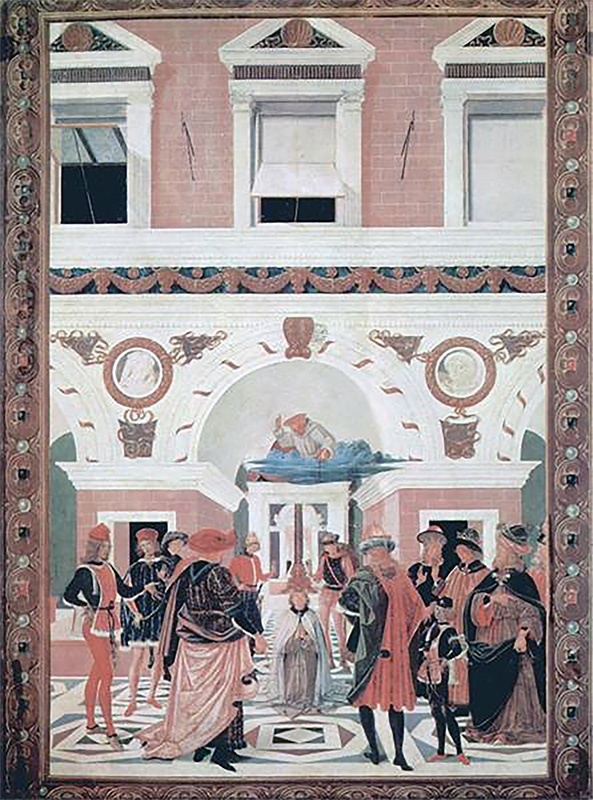 Grace by Susan Isla Tepper
Set in 19th Century Russia during a time of war

You instruct me to go to the church. Defy the innocents. Rub holy water on my breasts. Put my lips to the lips of God. I stand before you staring at your mouth. Unable to speak. This journey, dear Petrov, will not be my saving grace. Salvation coming from the rocks and streams. The white birch forest. The mountain always in view. Protective. Its great shadow veils the house and what I most fear. Over top the guns fire. I try enduring that sound. Will I outlive the guns and cannon fire. soldier you have no answer. A soldier coated in the stench of war. Though I brushed your coat and scrubbed your boots 'til my hands ached. My sink a font. I bow to what my sink must endure. The birds come back each spring with a troubling regularity. They have the freedom to choose while I do not. I have few freedoms. Which hat to wear. Whether to darn my cloak or go ragged. The saints went ragged I say. Causing you to laugh considerably. Loud and bellowing. Crashing. Knocking your whisky over. I cover my ears and move toward the kitchen.Looking out its one smudged window. Singing a soft prayer: O black birds of Russia I know it isn't true, the rage still burns bright in you.


###
Profile of a girl. Preparatory work for a decorative stain in red and green by Koloman Moser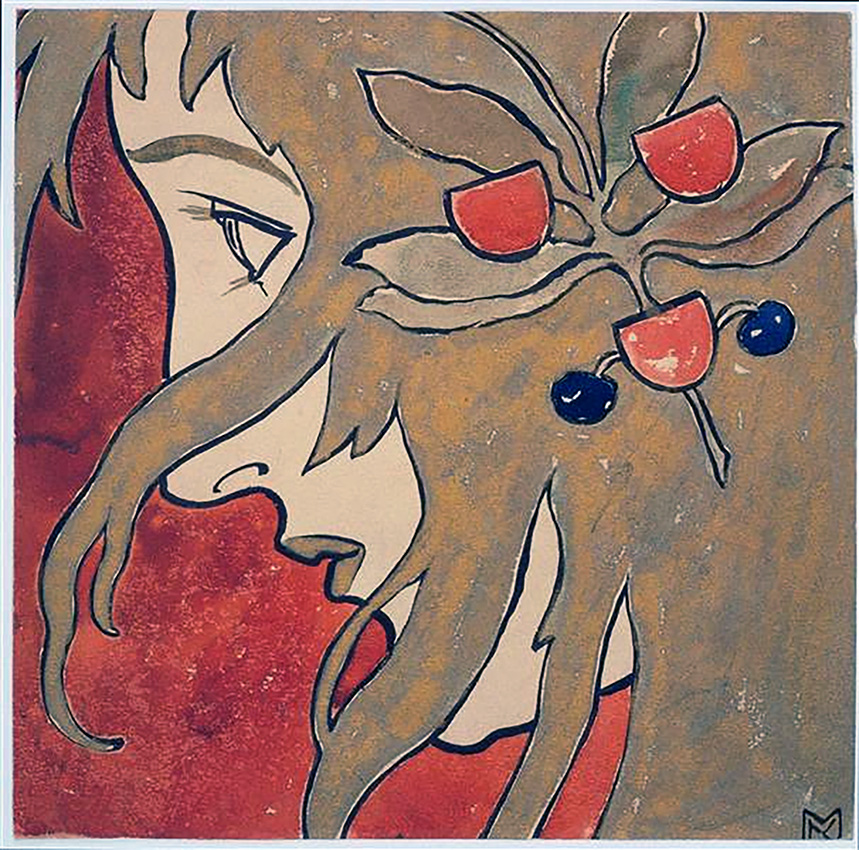 Buy THE CRAFTS on Amazon