Continued from our Home Page: Six Micro Fiction on
Common
Martyrs have been sacrificed in the great paintings. Room after room framed glittering gold. Splashes of red and a worried sky. The gleaming blade, dear Petrov. While crows poised in trees, mourners knelt on the ground in prayer. I saw the pictures as a child. Gripping my father's hand. In the great city where the church spires shine golden too. Even without a shining sun. Our hands gloved and a carriage with a top cover and sides. Brilliant black. Blankets over our laps. Unlike my open trap to which I tether my horse. Oh beloved creature. I am happy to share my potatoes. Your tongue rolls rough against my palm. After feeding I take to your back once more. Riding slowly through this house. A clip clop. Each room the sea changing color. Green to blue to dullest gray. Deplorable ruin. Down to the cellars where rough beams hang low. You know to duck your sweeping head. This trick I have learnt from you. My friend of a thousand seasons. One common potato. Clutching your neck I promise you one more.


Christ on the Cross
Easter Processions in Seville, 2022, Mari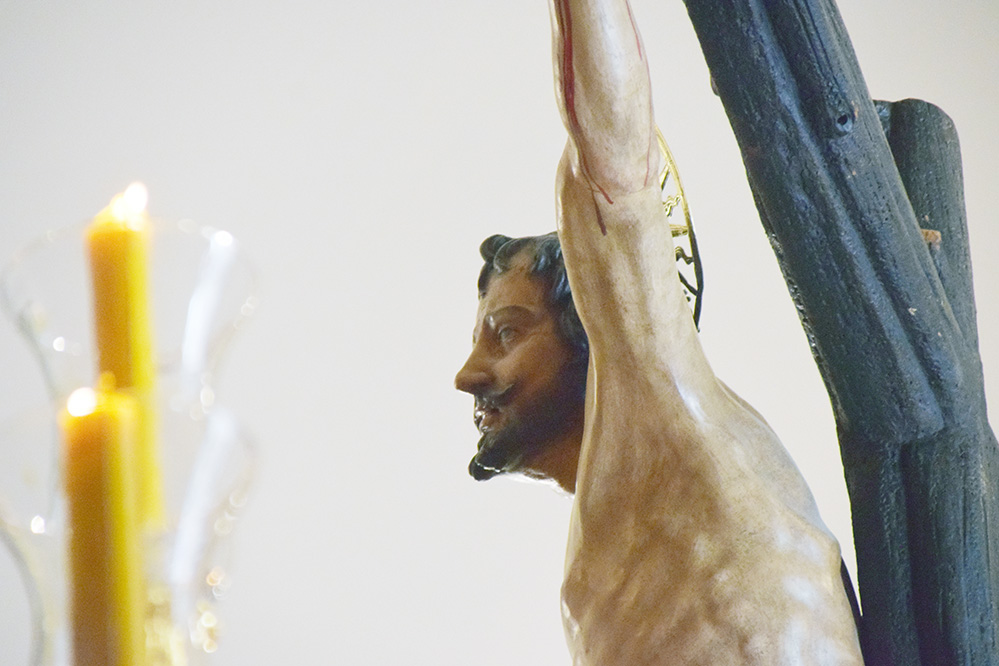 Aria
Books in the house damp and dying. Opening one the cover falls in my lap. Stained. Gold on its edges razed. Such a tragedy you would say with a smirk. But then you are a soldier. Tragedy occupies your time. I look toward the window. A small breeze swaying the sage. The day is temperate. Gathering my shawl tightly I walk the distance to the birch forest.ÂÂ Stepping into its shadowy folds. Cool white towers. Walking until I find the small clearing. Lying down. Feeling my father pulsing below. Many seasons gone. The birches are perhaps the true ghosts. Guarding me in this land. Protecting what used to be. A girl who stumbled repeatedly refusing to fall. Dear Petrov I have heard the stories of families levelled to dirt. What of my own. Does that story interest you. Or have you been too shaped by war. While I am simply the slag left after the smelting process. Can you feel my hand touching your face. Neck. Anything beyond your most elemental needs.ÂÂ Whisky. The fire heat, food down your throat. A warm bed. You take me to the bed. Grunting as you move in me. I want to scream out an aria. Inconsistent of course. The birches when they were as you and I. Must have been a glorious thing their coupling.

The Rainbow, Hormandie by Robert Henri, Date: 1902 Style: American Realism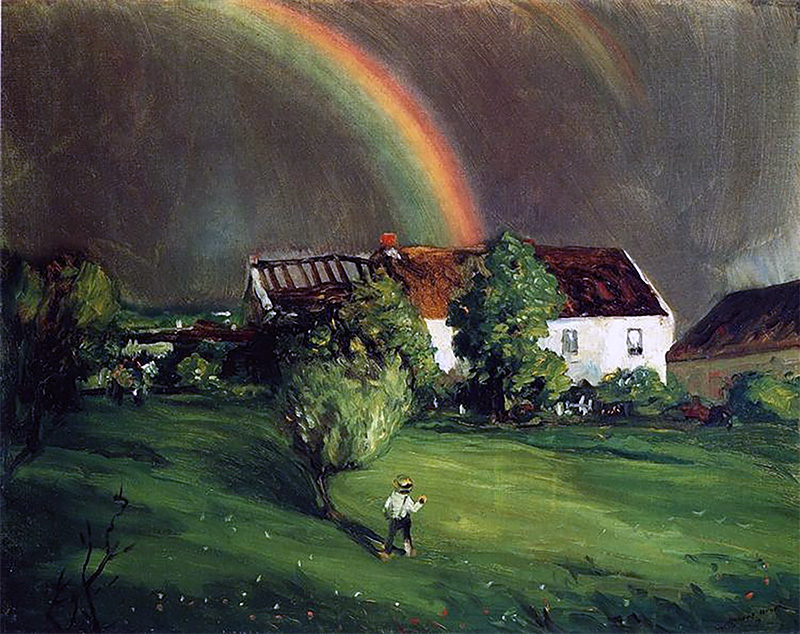 Cave
Trust I have little to spare. I have my house about to fall down. The harsh Russian winters. Once a very fine house. Before the wars. When most ran or were eliminated. A matter of luck. And my father. Away with a baby home in a cradle. Went simply unnoticed. Was that not luck. Depending. My father's eyes died after. Is that considered luck. A tumble down house better than no house. Perhaps it's best to dwell in a cave. Nothing to take when the time comes. I have what I have. My horse who lives and breathes alongside me. Through the days and nights when the walls change from land to sea. Night and its own confusions. Tented star-studded black velvet. Much like your regiment sets up camp. The mountain shimmers purple, dear Petrov. Do you notice. Here rogues roam for money and drink. Keep the doors bolted, you say. These are strange and difficult times. You look content in your chair. Worn. Blue velvet I cover each time you leave. A cloth of cherries trailing green stems. Spring-like. Giving me some hope. The fever the moment the door slams shut behind you. I rush up the stairs to look out the attic spaces. Watching you stomp down the road. To meet your regiment somewhere past the curve. The road bends then lost to shadows.